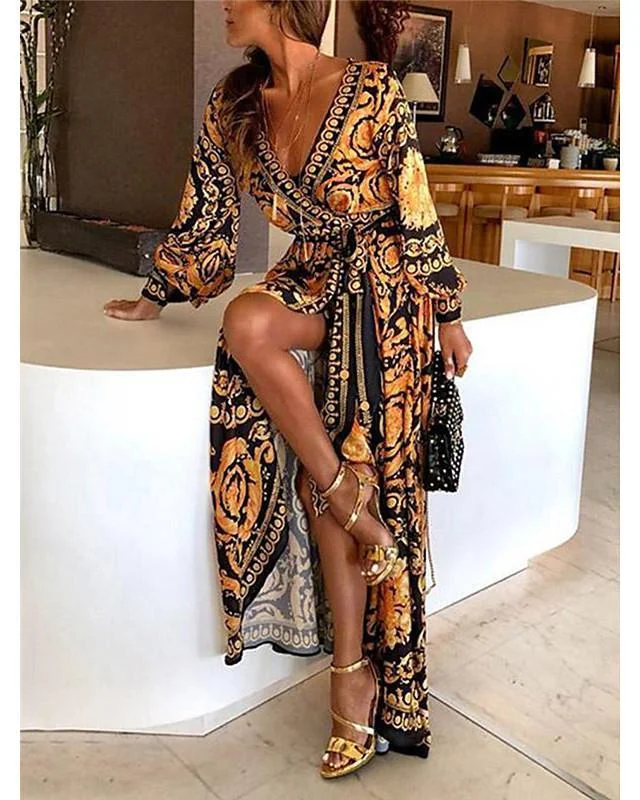 Selling Points
1.
Occasion: vacation dresses Beach - Dress nicely but do not overdress.Showing the best body shape., Going out - Simple and decent clothes of high quality.It can showing our elegance and personality. Holiday
2.
Neckline: Deep V - More sexy and it can enhance temperament,can get model very good got-up face and neck line.
3.
Design: Print - Indispensable quarterly fashion elements, sweet and romantic, to enhance the charm of the perfect female embellishment.
4.
Sleeve Length: Long Sleeve
Specifications
Gender: Women's
Style: Boho, Hot
Occasion: vacation dresses, Beach, Going out, Holiday
Dresses Type: Wrap Dress
Neckline: Deep V
Fabric: 4-Way Stretch Fabric
Design: Print
Details: Belt Included
Sleeve Length: Long Sleeve
Waistline: Medium Waist
Look After Me: Hand wash
Pattern: Other
Season: Spring & Summer
Dress Length Type: Maxi long Dress
Fit Type: Regular Fit
Size Chart
Size
Fit US Size
Fit UK Size
Fit EU Size
Bust
Waist
Length
S
4
8
36
40

¼

37
56
M
6
10
38
41

¾

38

½

56

¼

L
8
12
40
43

¼

40

¼

56

¾

XL
10
14
42
44
41
57
We want you to be happy with the products you purchase from us. If something's not right, you can return the product to us within 30 days and we will gladly refund or exchange. Unfortunately, we're unable to provide a refund or exchange without a valid proof of purchase. All gift cards and phone cards are excluded.
You will receive a full refund of the price you paid for the products. We will process the refund due to you as soon as we can and, in any case, within 14 calendar days of the day on which the goods have been returned.
Refunds take 5-7 working days to be credited to your payment card or PayPal account, depending on your card provider. If you're returning the products, all that we ask is that you take reasonable care of them while they are in your possession.