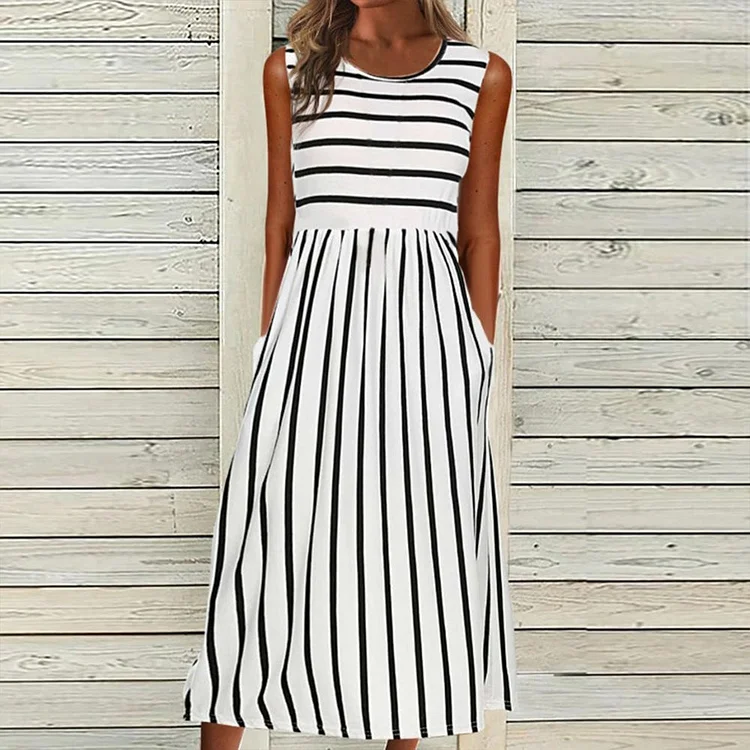 Description:
Get summer-ready with this vertical black and white striped midi dress featuring a high round neckline, sleeveless top, and cinched waist line that gives way to a midi length silhouette with pleats around the waist and side pockets. Finish your look with sandals, booties, thongs, and so much more. Machine wash normal with light colors or hand wash. May be hung up to dry or lay flat. Light ironing if needed.
Neckline: Round Neck
Sleeve Length: Sleeveless
Dress Length: Midi
Pattern Type: Striped
Silhouette: A-line
Material: 35% Elastane, 65% Rayon
Machine Washable
Size Chart:
Size
Bust
Length
inch
cm
inch
cm
S
35
88
48
122
M
36
92
49
125

L
38
97
50
128

XL
41
103
52

131

2XL
44
111
53

134

We want you to be happy with the products you purchase from us. If something's not right, you can return the product to us within 30 days and we will gladly refund or exchange. Unfortunately, we're unable to provide a refund or exchange without a valid proof of purchase. All gift cards and phone cards are excluded.
You will receive a full refund of the price you paid for the products. We will process the refund due to you as soon as we can and, in any case, within 14 calendar days of the day on which the goods have been returned.
Refunds take 5-7 working days to be credited to your payment card or PayPal account, depending on your card provider. If you're returning the products, all that we ask is that you take reasonable care of them while they are in your possession.