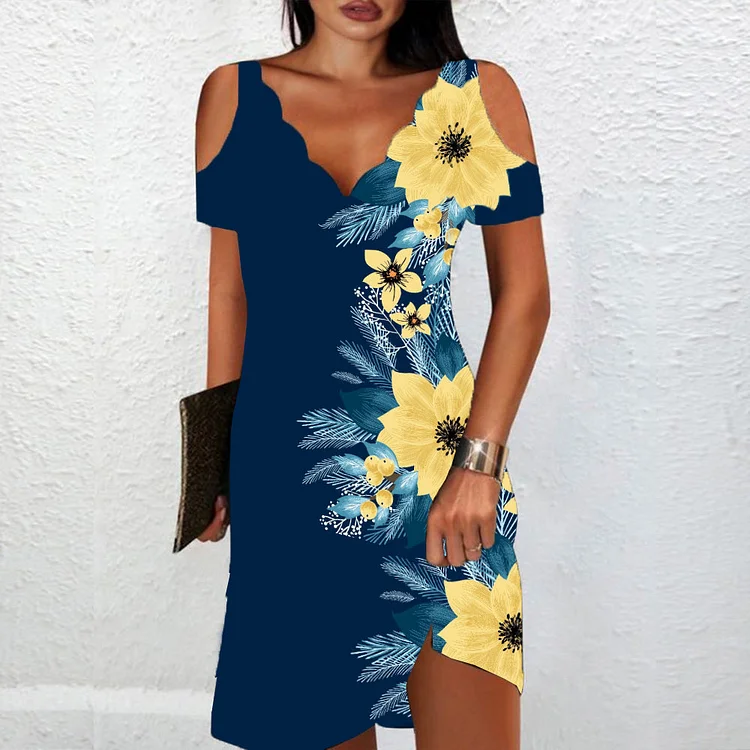 Description:
Make this sultry mini dress your favorite go-to on your next vacay or special event. The cut-out v-neck and cold shoulder short sleeve days make this mini dress perfect for sunkissed days and starry nights. The slim fit and shorter silhouette give it a flirty vibe. Machine wash cold tumble dry low to medium heat. Iron if needed or lay flat to dry.
Neckline: V-neck
Sleeve Length: Short Sleeve
Dress Length: Mini
Pattern Type: Floral
Silhouette: Shift
Material: 35% Elastane, 65% Rayon
Machine Washable
Size Chart:
Size
Bust
Length
Sleeves
inch
cm
inch
cm
inch
cm
S
36
92
35
88
3
8
M
38
96
35
90
4
9
L
40
101
36
92
4
10
XL
42
107
37
94
4
11
2XL
45
115
38
96
5
12
We want you to be happy with the products you purchase from us. If something's not right, you can return the product to us within 30 days and we will gladly refund or exchange. Unfortunately, we're unable to provide a refund or exchange without a valid proof of purchase. All gift cards and phone cards are excluded.
You will receive a full refund of the price you paid for the products. We will process the refund due to you as soon as we can and, in any case, within 14 calendar days of the day on which the goods have been returned.
Refunds take 5-7 working days to be credited to your payment card or PayPal account, depending on your card provider. If you're returning the products, all that we ask is that you take reasonable care of them while they are in your possession.