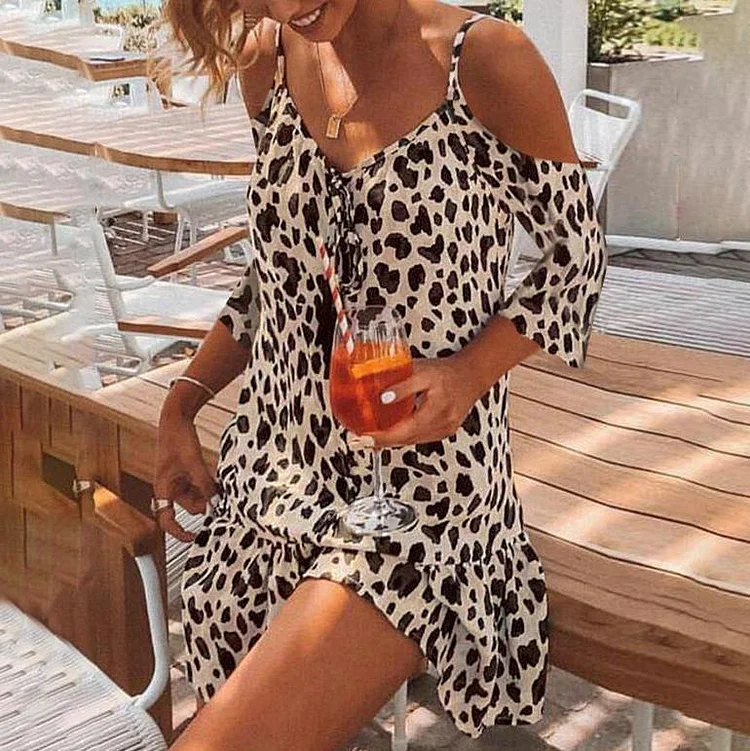 Description:
This cheetah-print dress is a total mood. Let your fun-loving, wild side shine in this spotted dress designed with a carefree, casual look made for soaking up sunshine. It's styled with a V-neckline, shoulder cutouts, cropped sleeves and a sweet ruffle hem. Add a bloody Mary in one hand and slides on your feet to score total vacation vibes wherever you are.
Sleeve Length: Half Sleeve
Pattern Type: Leopard
40% Elastane,

 6

0% Rayon
Cold Shoulder

V-neck with Tie
Mini Length
Shift Silhouette
Relaxed Fit
Hand Wash Cold or Dry Clean
Size Chart:
Size
Bust
Length
Sleeves
inch
cm
inch
cm
inch
cm
XS
36
92
34
86
11
27.5
S
38
96
35
88
11
28
M
39
100
35
90
11
28.5
L
41
105
36
92
11
29
XL
44
111
37
94
12
29.5
2XL
47
119
38
96
12
30
We want you to be happy with the products you purchase from us. If something's not right, you can return the product to us within 30 days and we will gladly refund or exchange. Unfortunately, we're unable to provide a refund or exchange without a valid proof of purchase. All gift cards and phone cards are excluded.
You will receive a full refund of the price you paid for the products. We will process the refund due to you as soon as we can and, in any case, within 14 calendar days of the day on which the goods have been returned.
Refunds take 5-7 working days to be credited to your payment card or PayPal account, depending on your card provider. If you're returning the products, all that we ask is that you take reasonable care of them while they are in your possession.